Donwell Abbey Quotes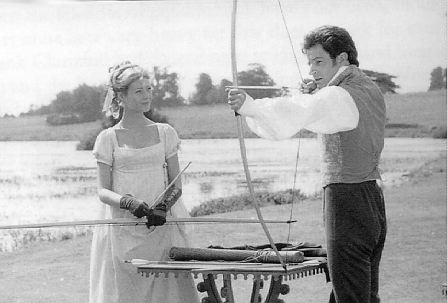 ---
Further Banter
She followed another carriage to Mr. Cole's door; and was pleased to see that it was Mr. Knightley's; for Mr. Knightley keeping no horses, having little spare money and a great deal of health, activity, and independence, was too apt, in Emma's opinion, to get about as he could, and not use his carriage so often as became the owner of Donwell Abbey. She had an opportunity now of speaking her approbation while warm from her heart, for he stopped to hand her out.
"This is coming as you should do," said she; "like a gentleman.-- I am quite glad to see you."
He thanked her, observing, "How lucky that we should arrive at the same moment! for, if we had met first in the drawing-room, I doubt whether you would have discerned me to be more of a gentleman than usual.-- You might not have distinguished how I came, by my look or manner."
"Yes I should, I am sure I should. There is always a look of consciousness or bustle when people come in a way which they know to be beneath them. You think you carry it off very well, I dare say, but with you it is a sort of bravado, an air of affected unconcern; I always observe it whenever I meet you under those circumstances. Now you have nothing to try for. You are not afraid of being supposed ashamed. You are not striving to look taller than any body else. Now I shall really be very happy to walk into the same room with you."
"Nonsensical girl!" was his reply, but not at all in anger.
---
Generosity Itself
"This is the luxury of a large party," said she:--"one can get near every body, and say every thing. My dear Emma, I am longing to talk to you. I have been making discoveries and forming plans, just like yourself, and I must tell them while the idea is fresh. Do you know how Miss Bates and her niece came here?"
"How?--They were invited, were not they?"
"Oh! yes--but how they were conveyed hither?--the manner of their coming?"
"They walked, I conclude. How else could they come?"
"Very true.--Well, a little while ago it occurred to me how very sad it would be to have Jane Fairfax walking home again, late at night, and cold as the nights are now. And as I looked at her, though I never saw her appear to more advantage, it struck me that she was heated, and would therefore be particularly liable to take cold. Poor girl! I could not bear the idea of it; so, as soon as Mr. Weston came into the room, and I could get at him, I spoke to him about the carriage. You may guess how readily he came into my wishes; and having his approbation, I made my way directly to Miss Bates, to assure her that the carriage would be at her service before it took us home; for I thought it would be making her comfortable at once. Good soul! she was as grateful as possible, you may be sure. `Nobody was ever so fortunate as herself!'--but with many, many thanks--`there was no occasion to trouble us, for Mr. Knightley's carriage had brought, and was to take them home again.' I was quite surprized;--very glad, I am sure; but really quite surprized. Such a very kind attention--and so thoughtful an attention!-- the sort of thing that so few men would think of. And, in short, from knowing his usual ways, I am very much inclined to think that it was for their accommodation the carriage was used at all. I do suspect he would not have had a pair of horses for himself, and that it was only as an excuse for assisting them."
"Very likely," said Emma--"nothing more likely. I know no man more likely than Mr. Knightley to do the sort of thing--to do any thing really good-natured, useful, considerate, or benevolent. He is not a gallant man, but he is a very humane one; and this, considering Jane Fairfax's ill-health, would appear a case of humanity to him;--and for an act of unostentatious kindness, there is nobody whom I would fix on more than on Mr. Knightley. I know he had horses to-day--for we arrived together; and I laughed at him about it, but he said not a word that could betray."
---
A Puzzlement
She was in the adjoining chamber while she still spoke, and opening the casement there, immediately called Mr. Knightley's attention, and every syllable of their conversation was as distinctly heard by the others, as if it had passed within the same apartment.
"How d' ye do?--how d'ye do?--Very well, I thank you. So obliged to you for the carriage last night. We were just in time; my mother just ready for us. Pray come in; do come in. You will find some friends here."
So began Miss Bates; and Mr. Knightley seemed determined to be heard in his turn, for most resolutely and commandingly did he say,
"How is your niece, Miss Bates?--I want to inquire after you all, but particularly your niece. How is Miss Fairfax?--I hope she caught no cold last night. How is she to-day? Tell me how Miss Fairfax is."
And Miss Bates was obliged to give a direct answer before he would hear her in any thing else. The listeners were amused; and Mrs. Weston gave Emma a look of particular meaning. But Emma still shook her head in steady scepticism.
"So obliged to you!--so very much obliged to you for the carriage," resumed Miss Bates.
He cut her short with,
"I am going to Kingston. Can I do anything for you?"
"Oh! dear, Kingston--are you?--Mrs. Cole was saying the other day she wanted something from Kingston."
"Mrs. Cole has servants to send. Can I do any thing for you?"
"No, I thank you. But do come in. Who do you think is here?-- Miss Woodhouse and Miss Smith; so kind as to call to hear the new pianoforte. Do put up your horse at the Crown, and come in."
"Well," said he, in a deliberating manner, "for five minutes, perhaps."
"And here is Mrs. Weston and Mr. Frank Churchill too!--Quite delightful; so many friends!"
"No, not now, I thank you. I could not stay two minutes. I must get on to Kingston as fast as I can."
"Oh! do come in. They will be so very happy to see you."
"No, no; your room is full enough. I will call another day, and hear the pianoforte."
"Well, I am so sorry!--Oh! Mr. Knightley, what a delightful party last night; how extremely pleasant.--Did you ever see such dancing?-- Was not it delightful?--Miss Woodhouse and Mr. Frank Churchill; I never saw any thing equal to it."
"Oh! very delightful indeed; I can say nothing less, for I suppose Miss Woodhouse and Mr. Frank Churchill are hearing every thing that passes. And (raising his voice still more) I do not see why Miss Fairfax should not be mentioned too. I think Miss Fairfax dances very well; and Mrs. Weston is the very best country-dance player, without exception, in England. Now, if your friends have any gratitude, they will say something pretty loud about you and me in return; but I cannot stay to hear it."
"Oh! Mr. Knightley, one moment more; something of consequence-- so shocked!--Jane and I are both so shocked about the apples!"
"What is the matter now?"
"To think of your sending us all your store apples. You said you had a great many, and now you have not one left. We really are so shocked! Mrs. Hodges may well be angry. William Larkins mentioned it here. You should not have done it, indeed you should not. Ah! he is off. He never can bear to be thanked. But I thought he would have staid now, and it would have been a pity not to have mentioned. . . . Well, (returning to the room,) I have not been able to succeed. Mr. Knightley cannot stop. He is going to Kingston. He asked me if he could do any thing. . . ."
---
Unpleasant Suspicions
"I know how highly you think of Jane Fairfax," said Emma. Little Henry was in her thoughts, and a mixture of alarm and delicacy made her irresolute what else to say.
"Yes," he replied, "any body may know how highly I think of her."
"And yet," said Emma, beginning hastily and with an arch look, but soon stopping--it was better, however, to know the worst at once-- she hurried on--"And yet, perhaps, you may hardly be aware yourself how highly it is. The extent of your admiration may take you by surprize some day or other."
Mr. Knightley was hard at work upon the lower buttons of his thick leather gaiters, and either the exertion of getting them together, or some other cause, brought the colour into his face, as he answered,
"Oh! are you there?--But you are miserably behindhand. Mr. Cole gave me a hint of it six weeks ago."
He stopped.--Emma felt her foot pressed by Mrs. Weston, and did not herself know what to think. In a moment he went on--
"That will never be, however, I can assure you. Miss Fairfax, I dare say, would not have me if I were to ask her--and I am very sure I shall never ask her."
Emma returned her friend's pressure with interest; and was pleased enough to exclaim,
"You are not vain, Mr. Knightley. I will say that for you."
He seemed hardly to hear her; he was thoughtful--and in a manner which shewed him not pleased, soon afterwards said,
"So you have been settling that I should marry Jane Fairfax?"
"No indeed I have not. You have scolded me too much for match-making, for me to presume to take such a liberty with you. What I said just now, meant nothing. One says those sort of things, of course, without any idea of a serious meaning. Oh! no, upon my word I have not the smallest wish for your marrying Jane Fairfax or Jane any body. You would not come in and sit with us in this comfortable way, if you were married."
Mr. Knightley was thoughtful again. The result of his reverie was, "No, Emma, I do not think the extent of my admiration for her will ever take me by surprize.--I never had a thought of her in that way, I assure you." And soon afterwards, "Jane Fairfax is a very charming young woman--but not even Jane Fairfax is perfect. She has a fault. She has not the open temper which a man would wish for in a wife."
Emma could not but rejoice to hear that she had a fault. "Well," said she, "and you soon silenced Mr. Cole, I suppose?"
"Yes, very soon. He gave me a quiet hint; I told him he was mistaken; he asked my pardon and said no more. Cole does not want to be wiser or wittier than his neighbours."
---
Mr. Knightley To The Rescue
"Mrs. Gilbert does not mean to dance, but there is a young lady disengaged whom I should be very glad to see dancing--Miss Smith." "Miss Smith!--oh!--I had not observed.--You are extremely obliging-- and if I were not an old married man.--But my dancing days are over, Mrs. Weston. You will excuse me. Any thing else I should be most happy to do, at your command--but my dancing days are over."
Mrs. Weston said no more; and Emma could imagine with what surprize and mortification she must be returning to her seat. This was Mr. Elton! the amiable, obliging, gentle Mr. Elton.-- She looked round for a moment; he had joined Mr. Knightley at a little distance, and was arranging himself for settled conversation, while smiles of high glee passed between him and his wife.
She would not look again. Her heart was in a glow, and she feared her face might be as hot.
In another moment a happier sight caught her;--Mr. Knightley leading Harriet to the set!--Never had she been more surprized, seldom more delighted, than at that instant. She was all pleasure and gratitude, both for Harriet and herself, and longed to be thanking him; and though too distant for speech, her countenance said much, as soon as she could catch his eye again.
His dancing proved to be just what she had believed it, extremely good; and Harriet would have seemed almost too lucky, if it had not been for the cruel state of things before, and for the very complete enjoyment and very high sense of the distinction which her happy features announced. It was not thrown away on her, she bounded higher than ever, flew farther down the middle, and was in a continual course of smiles.
---
Praise Worth Having
Emma had no opportunity of speaking to Mr. Knightley till after supper; but, when they were all in the ballroom again, her eyes invited him irresistibly to come to her and be thanked. He was warm in his reprobation of Mr. Elton's conduct; it had been unpardonable rudeness; and Mrs. Elton's looks also received the due share of censure.
"They aimed at wounding more than Harriet," said he. "Emma, why is it that they are your enemies?"
He looked with smiling penetration; and, on receiving no answer, added, "She ought not to be angry with you, I suspect, whatever he may be.--To that surmise, you say nothing, of course; but confess, Emma, that you did want him to marry Harriet."
"I did," replied Emma, "and they cannot forgive me."
He shook his head; but there was a smile of indulgence with it, and he only said,
"I shall not scold you. I leave you to your own reflections."
"Can you trust me with such flatterers?--Does my vain spirit ever tell me I am wrong?"
"Not your vain spirit, but your serious spirit.--If one leads you wrong, I am sure the other tells you of it."
"I do own myself to have been completely mistaken in Mr. Elton. There is a littleness about him which you discovered, and which I did not: and I was fully convinced of his being in love with Harriet. It was through a series of strange blunders!"
"And, in return for your acknowledging so much, I will do you the justice to say, that you would have chosen for him better than he has chosen for himself.--Harriet Smith has some first-rate qualities, which Mrs. Elton is totally without. An unpretending, single-minded, artless girl-- infinitely to be preferred by any man of sense and taste to such a woman as Mrs. Elton. I found Harriet more conversable than I expected."
Emma was extremely gratified.--They were interrupted by the bustle of Mr. Weston calling on every body to begin dancing again.
"Come Miss Woodhouse, Miss Otway, Miss Fairfax, what are you all doing?-- Come Emma, set your companions the example. Every body is lazy! Every body is asleep!"
"I am ready," said Emma, "whenever I am wanted."
"Whom are you going to dance with?" asked Mr. Knightley.
She hesitated a moment, and then replied, "With you, if you will ask me."
"Will you?" said he, offering his hand.
"Indeed I will. You have shewn that you can dance, and you know we are not really so much brother and sister as to make it at all improper."
"Brother and sister! no, indeed."
---
"An Anxious Friend"
He remained at Hartfield after all the rest, his thoughts full of what he had seen; so full, that when the candles came to assist his observations, he must--yes, he certainly must, as a friend-- an anxious friend--give Emma some hint, ask her some question. He could not see her in a situation of such danger, without trying to preserve her. It was his duty.
"Pray, Emma," said he, "may I ask in what lay the great amusement, the poignant sting of the last word given to you and Miss Fairfax? I saw the word, and am curious to know how it could be so very entertaining to the one, and so very distressing to the other."
Emma was extremely confused. She could not endure to give him the true explanation; for though her suspicions were by no means removed, she was really ashamed of having ever imparted them.
"Oh!" she cried in evident embarrassment, "it all meant nothing; a mere joke among ourselves."
"The joke," he replied gravely, "seemed confined to you and Mr. Churchill."
He had hoped she would speak again, but she did not. She would rather busy herself about any thing than speak. He sat a little while in doubt. A variety of evils crossed his mind. Interference-- fruitless interference. Emma's confusion, and the acknowledged intimacy, seemed to declare her affection engaged. Yet he would speak. He owed it to her, to risk any thing that might be involved in an unwelcome interference, rather than her welfare; to encounter any thing, rather than the remembrance of neglect in such a cause.
"My dear Emma," said he at last, with earnest kindness, "do you think you perfectly understand the degree of acquaintance between the gentleman and lady we have been speaking of?"
"Between Mr. Frank Churchill and Miss Fairfax? Oh! yes, perfectly.-- Why do you make a doubt of it?"
"Have you never at any time had reason to think that he admired her, or that she admired him?"
"Never, never!" she cried with a most open eagerness--"Never, for the twentieth part of a moment, did such an idea occur to me. And how could it possibly come into your head?"
"I have lately imagined that I saw symptoms of attachment between them-- certain expressive looks, which I did not believe meant to be public."
"Oh! you amuse me excessively. I am delighted to find that you can vouchsafe to let your imagination wander--but it will not do-- very sorry to check you in your first essay--but indeed it will not do. There is no admiration between them, I do assure you; and the appearances which have caught you, have arisen from some peculiar circumstances--feelings rather of a totally different nature-- it is impossible exactly to explain:--there is a good deal of nonsense in it--but the part which is capable of being communicated, which is sense, is, that they are as far from any attachment or admiration for one another, as any two beings in the world can be. That is, I presume it to be so on her side, and I can answer for its being so on his. I will answer for the gentleman's indifference."
She spoke with a confidence which staggered, with a satisfaction which silenced, Mr. Knightley. She was in gay spirits, and would have prolonged the conversation, wanting to hear the particulars of his suspicions, every look described, and all the wheres and hows of a circumstance which highly entertained her: but his gaiety did not meet hers. He found he could not be useful, and his feelings were too much irritated for talking. That he might not be irritated into an absolute fever, by the fire which Mr. Woodhouse's tender habits required almost every evening throughout the year, he soon afterwards took a hasty leave, and walked home to the coolness and solitude of Donwell Abbey.
---
The Truest Friend
Emma was sure he had not forgiven her; he looked unlike himself. Time, however, she thought, would tell him that they ought to be friends again. While he stood, as if meaning to go, but not going-- her father began his inquiries.
"Well, my dear, and did you get there safely?--And how did you find my worthy old friend and her daughter?--I dare say they must have been very much obliged to you for coming. Dear Emma has been to call on Mrs. and Miss Bates, Mr. Knightley, as I told you before. She is always so attentive to them!"
Emma's colour was heightened by this unjust praise; and with a smile, and shake of the head, which spoke much, she looked at Mr. Knightley.-- It seemed as if there were an instantaneous impression in her favour, as if his eyes received the truth from her's, and all that had passed of good in her feelings were at once caught and honoured.-- He looked at her with a glow of regard. She was warmly gratified-- and in another moment still more so, by a little movement of more than common friendliness on his part.--He took her hand;-- whether she had not herself made the first motion, she could not say-- she might, perhaps, have rather offered it--but he took her hand, pressed it, and certainly was on the point of carrying it to his lips-- when, from some fancy or other, he suddenly let it go.--Why he should feel such a scruple, why he should change his mind when it was all but done, she could not perceive.--He would have judged better, she thought, if he had not stopped.--The intention, however, was indubitable; and whether it was that his manners had in general so little gallantry, or however else it happened, but she thought nothing became him more.-- It was with him, of so simple, yet so dignified a nature.-- She could not but recall the attempt with great satisfaction. It spoke such perfect amity.--He left them immediately afterwards-- gone in a moment. He always moved with the alertness of a mind which could neither be undecided nor dilatory, but now he seemed more sudden than usual in his disappearance.
Emma could not regret her having gone to Miss Bates, but she wished she had left her ten minutes earlier;--it would have been a great pleasure to talk over Jane Fairfax's situation with Mr. Knightley.-- Neither would she regret that he should be going to Brunswick Square, for she knew how much his visit would be enjoyed--but it might have happened at a better time--and to have had longer notice of it, would have been pleasanter.--They parted thorough friends, however; she could not be deceived as to the meaning of his countenance, and his unfinished gallantry;--it was all done to assure her that she had fully recovered his good opinion.--He had been sitting with them half an hour, she found. It was a pity that she had not come back earlier!
---
| Hartfield | Donwell Abbey | Randalls | Box Hill | Image Gallery | Links | E-mail Me |